Hi SmartMatrix Community! Apologies in advance for any lack of clarity resulting from my limited experience working with LED matrixes.
I am trying to chain together a 32x32 1/16 scan rate panel and a 64x32 1/16 scan rate panel (both from Adafruit) using a Smart shield v5 and a Teensy 4.1. I have no issues chaining 32x32 panels together but I was hoping to add on my new 64x32 panel and thought there would be no issues as they have the same scan rate.
Unfortunately, when I try to chain the 32x32 with the 64x32, both panels show up with glitchy scan lines, and the 32x32 shows bits of the image while the 64x32 only shows red.
This is running the FeatureDemo sketch: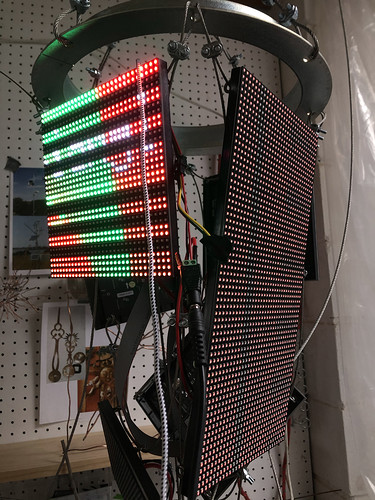 I've run a few tests but thought I would post here before going through too much headache in case someone else has encountered this. I've scoured the forums and can't find a preexisting answer, but I apologize if there is one. (Especially if it is obvious and I am just completely missing it in my distress!)
Thank you so much in advance!!