Hi all,
I'm trying to get my 32x32 matrix mapped using the MultiRowRefreshMapping sketch. I am using a teensy 3.6 with a SmartLED hat.
The reason I think my matrix is a 1:8 scan rate is because of a 8s printed on the silk screen on the back.
Attached below is the map I came to, and the movement of the red pixel.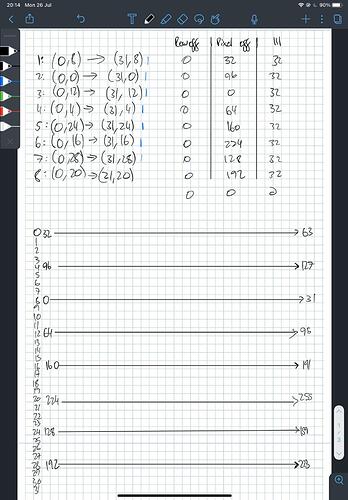 Something I find odd is the pixel moved to 256 spaces rather than the 128 described on the wiki instructions.
For the settings in reverse engineering mode I used
SM_PANELTYPE_HUB75_16ROW_MOD8SCAN , 64 width, 16 height
as described here:
https://community.pixelmatix.com/t/32x32-matrix-issue/559/11
I tried the mapping the above diagram would result in and my images were still jumbled up.
Any help trouble shooting would be much appreciated!
Cheers