Hi!
I have received some HUB75E panels with very little additional information and no markings regarding the input pins and was wondering if anybody else has seen and/or used these panels. I have been trying to run them with a Teensy4.1 and the SmartLED Shield for Teensy 4 V5 but no luck with getting anything to light up so far. I have tested the shield and teensy on another panel I have bought before and that one worked without an issue, so I am sure it's not an issue with the shield and teensy. I have so far not found any related post for the chipset they are using. The panels are P2 panels with 64x128 pixel dimension and the chipsets are marked with ICND2153. I am pretty new to HUB75 panels, so maybe I am missing something obvious here.
There are some markings on the display, such as HUB-75E right below the connector, K716-V3.2 and KSL 2045 B23 right next to each other. And on the other side (seen on the image) it says K716-128X64-32S-V3.2 and a sticker with P2SSMD210112-H106J/2A/343-A1.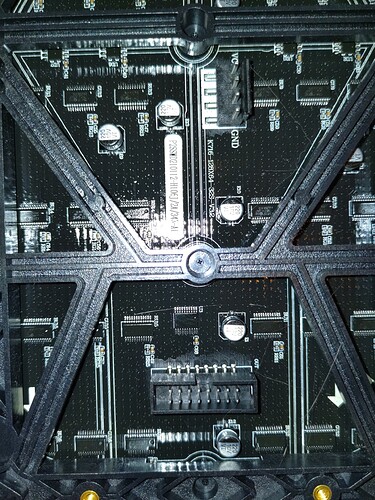 I am happy to provide more information if I missed something
Cheers!