I have been testing some panels that I have with this library. I have used them previously in the following configuration:
with ESP32/ESP8266 and the PxMatrix library, they do work and display as instructed but the output is usually noisy and the colors do not match - see my issue here https://github.com/2dom/PxMatrix/issues/258
with an Arduino Mega 2560 and the "old" Adafruit RGB matrix panel library that they use for their tutorials - https://github.com/adafruit/RGB-matrix-Panel With this they work fine using the default settings, but both the library and the MCU's it runs on cannot support chaining (because of not actually being able to fit a larger matrix in memory)
Using an ESP32 hooked up directly with the forum wiring to the panel and configured as SM_PANELTYPE_HUB75_32ROW_MOD16SCAN, I can display stuff on the panel, but the matrix seems to "start" in memory before my actual hardware panel so the characters are "widened" on the first 1/3 of the panel horizontally. Here is what I am talking about:
Here is how it looks: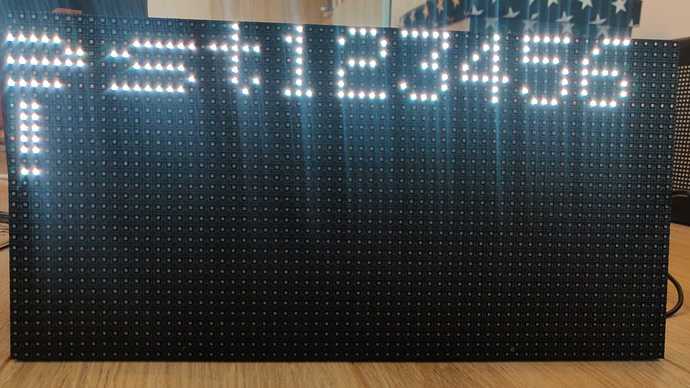 Here is a video of the
MultiRowRefreshMapping
(I did not film it for the whole panel because it just repeats on a row-by-row basis, but the result is the same for each):
Any ideas on what I could've done wrong or what should I change to get it to display properly?
Thanks