Hello, I write to thank for the great work you do.


I ran the RGB_Feature demo on 4 panels of 36x12.
I bought them on AliExpress, if somebody is interested, the link is:
I bought the kit in case I can't do work with Teensy + SmartMatrix
I connected a panel to a Teensy 3.5, but just flicker and couldn't get something functional. There I noticed that the Teensy give 3.3V data, silly me. The SmartShield would be the solution, but here at the end of the earth in SouthAmerica (Chile), will take some time get one. So I follow the schematics from the shield and can transform the 3.3V data to 5V data.
I used two 74HTC245 chip, two capacitors and I follow the guide of the SmartMatrixSD
I run first in a protoboard, then I soldered it to a plate giving this result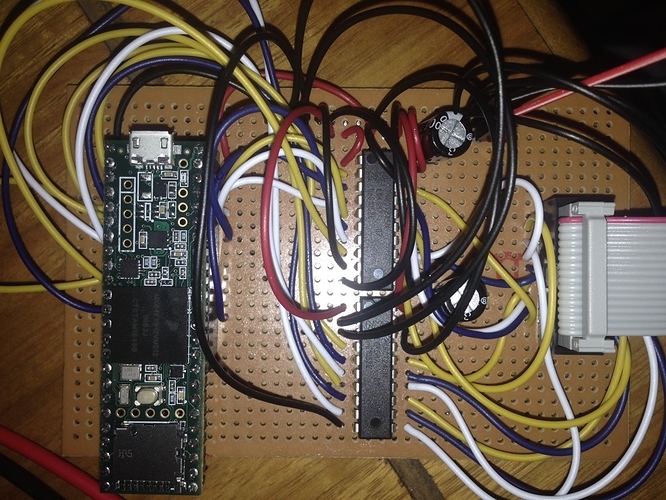 I tested for two panels on a row, so I have 64x16, then I wanted to make it work the 4 panels. So I edited the code and upload the sketch, the changes were only:
const uint8_t kMatrixWidth = 64;
const uint8_t kMatrixHeight = 32;
const uint8_t kPanelType = SMARTMATRIX_HUB75_16ROW_MOD8SCAN;
const uint8_t kMatrixOptions = (SMARTMATRIX_OPTIONS_C_SHAPE_STACKING | SMARTMATRIX_OPTIONS_BOTTOM_TO_TOP_STACKING);
The result was awesome

Again, thank you very much for the great work.
Best regards from Chile
Álvaro Monares G.