Hi all
I was trying my 32x32 SmartMatrix lib on a ESP32.
Matrix is running well with PxMatrix lib.
however I have some display issue with this lib.
Here is my Matrix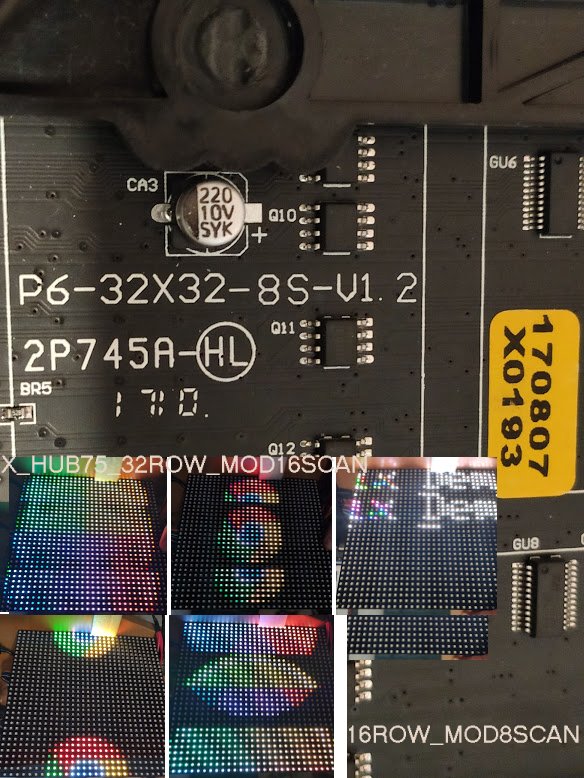 I thought the adafruit logo on it was a goos sign

no info on the HUB75 connector.
With the bitmap demo and parameter SMARTMATRIX_HUB75_32ROW_MOD16SCAN, bipmap / lines are seeing twice
With SMARTMATRIX_HUB75_16ROW_MOD8SCAN, it's better but the 4 displayed blocks are not in the good order . All part of image are displayed but not at the right place.
Has someone an idea what can I do to ?
My working PxMatric config is:
PxMATRIX display(32,32,P_LAT, P_OE,P_A,P_B,P_C,P_D);
// Define your display layout here, e.g. 1/8 step
display.begin(8);
// Define your scan pattern here {LINE, ZIGZAG, ZAGGIZ} (default is LINE)
display.setScanPattern( LINE);
// Define multiplex implemention here {BINARY, STRAIGHT} (default is BINARY)
//display.setMuxPattern(BINARY); // STRAIGHT is not working
So default configuration here …
PS: sorry I can only upload 1 image as I'm a new user